As a symbol of joy and good luck, hummingbirds are nature's way of reminding us of the sweetness of life.

Make reading a joy by gifting yourself or your loved ones our timeless bookmarks. The perfect gift for students, teachers, colleagues, and readers of all ages that easily fits inside any book.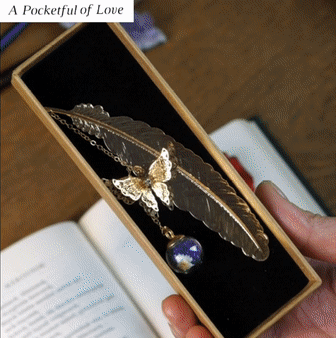 Features:
This stunning hummingbird feather bookmark design features wings that really flutter to celebrate the wonder of one of nature's tiniest treasures!
Handcrafted in pure copper, this feather bookmark captures this remarkable creature forever in mid-flight, as if poised above a blossom in search of nectar.
Pure copper feathers and hummingbird are elegant and exquisite. There are beautiful green rhinestones and a sunflower in the bead.
The delicately sculpted wings really flutter and vibrate with your movements, catching the light with each little beat.
What a beautiful reminder of the little things in life that truly bring us joy! Demand is strong, Don't delay. Order now!
Specifications:
Size: 6.29 x 2.36 x 1.18 inch.
Weight: 1.76 ounces.
Material: pure copper.
Dear Customer:
We provide high-quality jewelry and the best customer service if you have any problems please don't hesitate to contact our official email, we will try our best to help you. (info@apocketfuloflove.com)