Mother Nature surrounds us with many beautiful things, especially her colorful songbirds. Now, you can enjoy beloved songbirds paired with another natural marvel.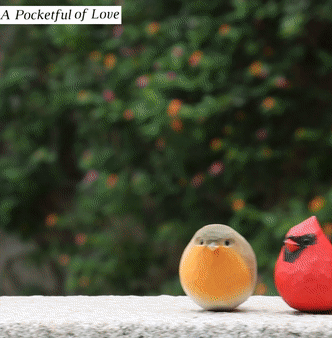 Spread joy and inspiration with our hand-painted wood carving bird. Enjoy the feathery buddies that visit your house in a whole new way.
Features:
In every season, songbirds bring us joy with their merry melodies, colorful beauty, and free-fly antics. Bring the magic of nature indoors with the touch-activated songbirds of these amazing sculptures.
There is nothing quite like the sight of a gorgeous songbird to bring peace to your heart and joy to your day. Now, the fleeting beauty of songbirds can help you relieve daily stress and pressures and discover your inner artist.
Each bird is carefully sculpted by our top craftsmen and hand-painted to match nature's beauty. Meticulous artistry, our wood carving bird is a true work of art.
A wonderful home decor treasure for bird lovers and nature enthusiasts. Demand is strong, so hurry - order now!
Due to hand-carving, there is no guarantee that every product will be exactly the same, but don't worry, I will try my best to provide the most perfect product!
Specifications:
Bird name: Hummingbird, Cardinal, Robin;
Size: 5.91 X 3.94 X 1.57 inch;
Weight: 1.76 Ounces;
Encyclopedia:
Hummingbirds occur mainly in North and Central America. The male has a colorful plumage with a shimmering greenback and a ruby-red throat.
Cardinal is a colorful songbird from the eastern United States. This adaptable bird has spread from the southern states to as far north as the Canadian border.
Robin is an extraordinary bird, partly because of its appearance, its red breast, the dark peppercorn eye, and the dapper body."𝑶𝒏𝒆 𝒃𝒖𝒔𝒉 𝒄𝒂𝒏 𝒏𝒆𝒗𝒆𝒓 𝒉𝒐𝒖𝒔𝒆 𝒎𝒐𝒓𝒆 𝒕𝒉𝒂𝒏 𝒐𝒏𝒆 𝒓𝒐𝒃𝒊𝒏"