"𝙍𝙤𝙗𝙞𝙣𝙨 𝙖𝙥𝙥𝙚𝙖𝙧 𝙬𝙝𝙚𝙣 𝙡𝙤𝙫𝙚𝙙 𝙤𝙣𝙚𝙨 𝙖𝙧𝙚 𝙣𝙚𝙖𝙧" - A Unique Robin Bird-inspired Hand-painted Sculptural.
Many cultures believe that robins are messengers from Heaven. Many believe that robins carefully carry the spirit of loved ones no longer with us.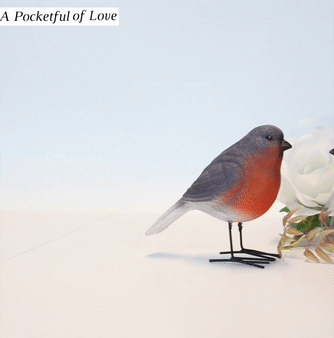 Come With A Sweet Poem Card:
"𝙒𝙝𝙚𝙣 𝙮𝙤𝙪 𝙨𝙖𝙬 𝙩𝙝𝙚 𝙍𝙤𝙗𝙞𝙤𝙣 𝙞𝙣 𝙩𝙝𝙚 𝙩𝙧𝙚𝙚, 𝙙𝙞𝙙 𝙮𝙤𝙪 𝙠𝙣𝙤𝙬 𝙩𝙝𝙖𝙩 𝙞𝙩 𝙬𝙖𝙨 𝙢𝙚? 𝙄 𝙖𝙢 𝙣𝙚𝙫𝙚𝙧 𝙛𝙖𝙧 𝙖𝙬𝙖𝙮, 𝙖𝙨 𝙄 𝙬𝙖𝙩𝙘𝙝 𝙤𝙫𝙚𝙧 𝙮𝙤𝙪 𝙚𝙫𝙚𝙧𝙮 𝙙𝙖𝙮 𝙄 𝙝𝙤𝙥𝙚 𝙢𝙮 𝙥𝙧𝙚𝙨𝙚𝙣𝙘𝙚 𝙗𝙧𝙞𝙣𝙜𝙨 𝙮𝙤𝙪 𝙥𝙚𝙖𝙘𝙚, 𝙩𝙤 𝙘𝙖𝙧𝙧𝙮 𝙤𝙣, 𝙖𝙣𝙙 𝙨𝙢𝙞𝙡𝙚 𝙬𝙞𝙩𝙝 𝙚𝙖𝙨𝙚. 𝙄 𝙬𝙞𝙡𝙡 𝙖𝙡𝙬𝙖𝙮𝙨 𝙗𝙚 𝙞𝙣 𝙮𝙤𝙪𝙧 𝙝𝙚𝙖𝙧𝙩, 𝙚𝙫𝙚𝙣 𝙩𝙝𝙤𝙪𝙜𝙝 𝙬𝙚 𝙖𝙧𝙚 𝙖𝙥𝙖𝙧𝙩. 𝙉𝙚𝙭𝙩 𝙩𝙞𝙢𝙚 𝙮𝙤𝙪 𝙨𝙚𝙚 𝙖 𝙍𝙤𝙗𝙞𝙣 𝙞𝙣 𝙩𝙝𝙚 𝙩𝙧𝙚𝙚, 𝙨𝙩𝙖𝙮 𝙖 𝙬𝙝𝙞𝙡𝙚 𝙖𝙣𝙙 𝙩𝙝𝙞𝙣𝙠 𝙤𝙛 𝙢𝙚."

Let this sweet poem bring comfort to anyone who has suffered a great loss - appropriate for a wake, a gift to send to family, or as a remembrance of a loved one.
Features:
Robin is famous for their bright orange-colored breast and, of course, those cheery songs. Robins are also considered to be a sign that your deceased loved one is with you.
Robin symbolizes new beginnings, new projects, and a sign of good things to come. Lots of people believe that robins bring luck to those they stay close to.
Robin has great symbolic significance and has been done for centuries. So, remember when robins are near, the thoughts of lost loved ones, new beginnings, or renewed hope surround you.
Each bird is carefully sculpted by our top craftsmen and hand-painted to match nature's beauty. Meticulous artistry, our hand-painted robin is a true work of art.
Set of 2 cute robin birds make your home, patio, and garden backyard lively. And they are also a perfect gift for friends who loves gardening and decorating.
Specifications:
Weight: 350g.
Material: Resin, Metal.
Packing: two birds are well packed into a box.
We Belief:
We believe that the souls of our passed loved ones can manifest in different winged creatures that serve as Robin and show up to us when we need them the most.
It is our vision to help people heal and connect with loved ones passed on from this physical plane.
We hope that our artistic and soulful pieces and poetry will give you hope and remind you that your love never dies.
(info@apocketfuloflove.com)