"𝑩𝒍𝒖𝒆𝒃𝒊𝒓𝒅𝒔 𝑨𝒑𝒑𝒆𝒂𝒓 𝑾𝒉𝒆𝒏 𝑨𝒏𝒈𝒆𝒍𝒔 𝑨𝒓𝒆 𝑵𝒆𝒂𝒓"
A unique Bluebird bird-inspired handpainted wind chime.
In many cultures, a friendly little bluebird represents a loved one who has passed. So when you see one, it means a special someone is visiting you...keeping the spirit of your loved ones forever by your side.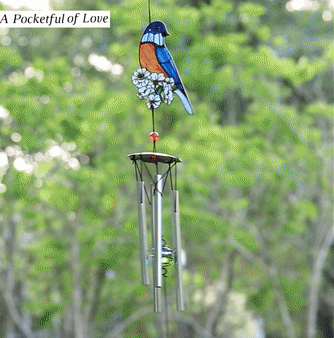 Come With A Sweet Poem Card:
"𝑰'𝒍𝒍 𝒄𝒐𝒎𝒆 𝒐𝒏𝒆 𝒅𝒂𝒚 𝒕𝒐 𝒗𝒊𝒔𝒊𝒕 𝒚𝒐𝒖, 𝒀𝒐𝒖'𝒍𝒍 𝒌𝒏𝒐𝒘 𝒊𝒕'𝒔 𝒎𝒆, 𝒂𝒏𝒅 𝒇𝒆𝒆𝒍 𝒊𝒕 𝒕𝒐𝒐. 𝑰'𝒍𝒍 𝒃𝒆 𝒃𝒍𝒖𝒆, 𝒋𝒐𝒚𝒇𝒖𝒍, 𝒇𝒓𝒆𝒆, 𝑨𝒏𝒅 𝒔𝒊𝒏𝒈 𝒎𝒚 𝒔𝒕𝒂𝒓𝒕𝒍𝒊𝒏𝒈 𝒎𝒆𝒍𝒐𝒅𝒚. 𝑻𝒉𝒆𝒓𝒆'𝒔 𝒏𝒐 𝒎𝒊𝒔𝒕𝒂𝒌𝒆 𝑰'𝒍𝒍 𝒄𝒐𝒎𝒆 𝒕𝒉𝒂𝒕 𝒅𝒂𝒚, 𝑰 𝒇𝒆𝒆𝒍 𝒚𝒐𝒖𝒓 𝒑𝒂𝒊𝒏, 𝒚𝒐𝒖'𝒗𝒆 𝒍𝒐𝒔𝒕 𝒚𝒐𝒖𝒓 𝒘𝒂𝒚, 𝑰 𝒍𝒐𝒗𝒆 𝒚𝒐𝒖 𝒔𝒐 𝒂𝒏𝒅 𝒎𝒊𝒔𝒔 𝒚𝒐𝒖 𝒕𝒐𝒐, 𝑶𝒖𝒓 𝒉𝒆𝒂𝒓𝒕𝒔 𝒆𝒏𝒕𝒘𝒊𝒏𝒆𝒅, 𝒐𝒖𝒓 𝒃𝒐𝒏𝒅 𝒊𝒔 𝒕𝒓𝒖𝒆. 𝑱𝒖𝒔𝒕 𝒄𝒍𝒐𝒔𝒆 𝒚𝒐𝒖𝒓 𝒆𝒚𝒆𝒔 𝒚𝒐𝒖'𝒍𝒍 𝒔𝒆𝒆 𝒎𝒚 𝒇𝒂𝒄𝒆, 𝑵𝒐 𝒕𝒊𝒎𝒆 𝒏𝒐𝒓 𝒔𝒑𝒂𝒄𝒆 𝒄𝒂𝒏 𝒕𝒂𝒌𝒆 𝒐𝒖𝒓 𝒑𝒍𝒂𝒄𝒆. 𝑩𝒖𝒕 𝒊𝒕'𝒔 𝒔𝒕𝒊𝒍𝒍 𝒚𝒐𝒖𝒓 𝒕𝒖𝒓𝒏, 𝒔𝒐 𝒕𝒂𝒌𝒆 𝒆𝒗𝒆𝒓𝒚 𝒄𝒉𝒂𝒏𝒄𝒆 𝑻𝒐 𝒍𝒊𝒗𝒆 𝒘𝒊𝒕𝒉 𝒘𝒐𝒏𝒅𝒆𝒓, 𝒕𝒐 𝒔𝒊𝒏𝒈, 𝒂𝒏𝒅 𝒅𝒂𝒏𝒄𝒆, 𝑲𝒏𝒐𝒘 𝒆𝒗𝒆𝒓𝒚 𝒑𝒓𝒐𝒃𝒍𝒆𝒎 𝒊𝒏 𝒍𝒊𝒇𝒆 𝒘𝒊𝒍𝒍 𝒑𝒂𝒔𝒔, 𝑻𝒉𝒊𝒔 𝒋𝒐𝒖𝒓𝒏𝒆𝒚'𝒔 𝒔𝒉𝒐𝒓𝒕, 𝒔𝒐 𝒍𝒊𝒗𝒆, 𝒍𝒐𝒗𝒆, 𝒍𝒂𝒖𝒈𝒉. 𝑷𝒍𝒆𝒂𝒔𝒆 𝒅𝒐𝒏'𝒕 𝒅𝒆𝒔𝒑𝒂𝒊𝒓, 𝒘𝒆'𝒓𝒆 𝒏𝒐𝒕 𝒂𝒑𝒂𝒓𝒕 𝑰'𝒍𝒍 𝒂𝒍𝒘𝒂𝒚𝒔 𝒍𝒊𝒗𝒆 𝒊𝒏𝒔𝒊𝒅𝒆 𝒚𝒐𝒖𝒓 𝒉𝒆𝒂𝒓𝒕. 𝑳𝒊𝒇𝒆 𝒎𝒐𝒗𝒆𝒔 𝒇𝒂𝒔𝒕, 𝒐𝒏𝒆 𝒅𝒂𝒚 𝒚𝒐𝒖'𝒍𝒍 𝒔𝒆𝒆, 𝑾𝒆'𝒍𝒍 𝒎𝒆𝒆𝒕 𝒂𝒈𝒂𝒊𝒏, 𝒊𝒕'𝒔 𝒅𝒆𝒔𝒕𝒊𝒏𝒚."
Honor the memories of your loved ones with this very special bluebirds memorial wind chim and Blue Feathered Soul poem memorial gift.
Features:
This sweet Bluebirds memorial wind chime offers a comforting and relaxing sound and a lovely design adorned with two Bluebirds.
Treasured memories appear when you need them most! It is comforting to imagine a Bluebirds sending messages to loved ones in heaven for us with the help of a gentle breeze.
A gentle breeze sets the real wind chimes in motion with a melodic sound. This moving testament to everlasting love serves as a meaningful memorial gift for anyone who's lost a loved one.
Whenever you hear the peaceful music coming from these wind chimes, your loving wishes rise, like whispers in the wind.Hang it in your backyard for a loving tribute or remembrance for a loved one and as the wind blows hear its melodic sound.
Our bluebirds memorial wind chimes expression of comfort is expertly crafted and painted by hand with a metallic finish and an intricate bas-relief floral motif along with a real, working wind chime that suspends in a heart-shaped opening.
Specifications:
Each of our bluebirds memorial wind chimes comes with a poem card, with the soulful message from loved ones passed on that they are forever with us.
Size:

6.6 x 6.6 x 6.4 inches

;
Weight:

12.8 ounces

;
We Belief:
We believe that the souls of our passed loved ones can manifest in different winged creatures that serve as Bluebirds and show up to us when we need them the most.
It is our vision to help people heal and connect with loved ones passed on from this physical plane.
We hope that our artistic and soulful pieces and poetry will give you hope and remind you that your love never dies.
(info@apocketfuloflove.com)