When angels are close by, cardinals appear. It will be always with you, comfort you, and make you more confident.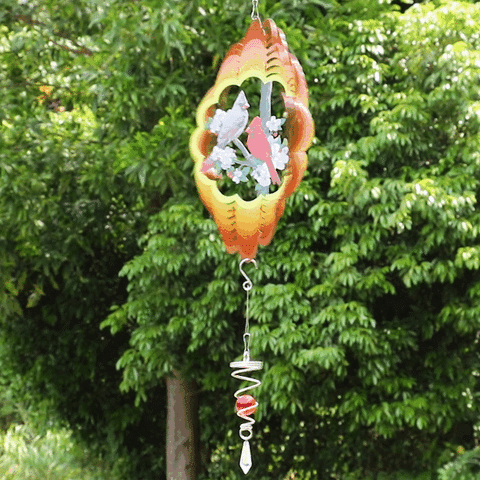 When the shiny wind spinner rotates, the multi-layer color will form the visual effect of 3D cardinal and flower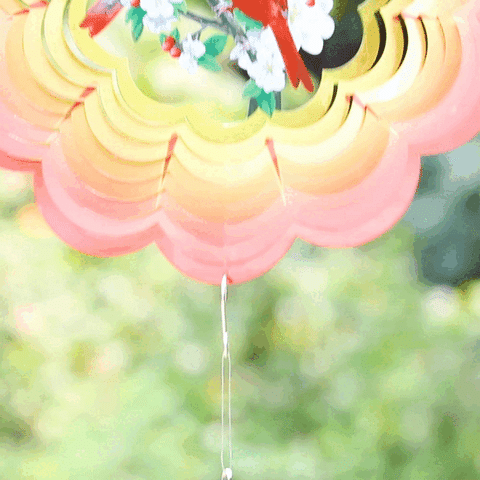 The bright reflective color flashing material emits a flickering, charming magical 3D visual effect, whether day or night, indoor or outdoor, our bird wind hanging spinner can reflect beautiful light and attract people's vision.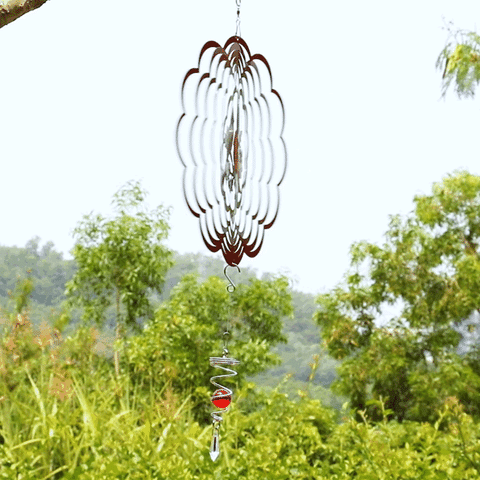 The Wind Spinner Red Cardinal Birds is made of high-quality metal, which has an anti-rust coating. Don't worry about raining the garden bee decoration to rust so which affects the beauty of the Wind Spinner Red Cardinal Birds.
Specifications:
Product Dimensions: 12 x 12 x 0.03 Inches

Made from a durable stainless steel material making it strong yet flexible

Reflective material gives off a captivating 3D effect

Package: Gift Box Packaging
Come With A Sweet Poem Card:
"𝑾𝒉𝒆𝒏 𝒚𝒐𝒖'𝒓𝒆 𝒍𝒐𝒔𝒕 𝒐𝒓 𝒇𝒆𝒆𝒍𝒊𝒏𝒈 𝒅𝒐𝒘𝒏, 𝑫𝒐𝒏'𝒕 𝒅𝒆𝒔𝒑𝒂𝒊𝒓, 𝒋𝒖𝒔𝒕 𝒍𝒐𝒐𝒌 𝒂𝒓𝒐𝒖𝒏𝒅. 𝑮𝒐𝒅 𝒎𝒂𝒅𝒆 𝒎𝒆 𝒓𝒆𝒅 𝒔𝒐 𝒚𝒐𝒖 𝒘𝒐𝒖𝒍𝒅 𝒔𝒆𝒆, 𝑰 𝒔𝒕𝒊𝒍𝒍 𝒆𝒙𝒊𝒔𝒕 𝒐𝒖𝒕𝒔𝒊𝒅𝒆 𝒚𝒐𝒖𝒓 𝒎𝒆𝒎𝒐𝒓𝒚. 𝑰 𝒎𝒂𝒌𝒆 𝒎𝒚 𝒗𝒊𝒔𝒊𝒕𝒔 𝒊𝒏 𝒃𝒓𝒊𝒈𝒉𝒕 𝒅𝒂𝒚𝒍𝒊𝒈𝒉𝒕, 𝒀𝒐𝒖'𝒍𝒍 𝒉𝒆𝒂𝒓 𝒎𝒚 𝒔𝒐𝒏𝒈 𝒊𝒏 𝒅𝒊𝒔𝒕𝒂𝒏𝒕 𝒇𝒍𝒊𝒈𝒉𝒕. 𝑴𝒚 𝒄𝒂𝒓𝒅𝒊𝒏𝒂𝒍 𝒔𝒐𝒏𝒈 𝒊𝒔 𝒂 𝒄𝒂𝒍𝒍 𝒕𝒐 𝒚𝒐𝒖, 𝑻𝒐 𝒕𝒆𝒍𝒍 𝒚𝒐𝒖 𝒕𝒉𝒂𝒕 𝑰 𝒎𝒊𝒔𝒔 𝒚𝒐𝒖 𝒕𝒐𝒐. 𝑰 𝒂𝒎 𝒆𝒗𝒆𝒓𝒚𝒘𝒉𝒆𝒓𝒆 𝒂𝒏𝒅 𝒇𝒊𝒏𝒂𝒍𝒍𝒚 𝒇𝒓𝒆𝒆, 𝑳𝒊𝒌𝒆 𝒍𝒐𝒗𝒆 𝒚𝒐𝒖 𝒄𝒂𝒏𝒏𝒐𝒕 𝒕𝒐𝒖𝒄𝒉 𝒐𝒓 𝒔𝒆𝒆. 𝒀𝒐𝒖'𝒍𝒍 𝒔𝒆𝒆 𝒎𝒆 𝒊𝒏 𝒕𝒉𝒆 𝒕𝒓𝒆𝒆𝒔 𝒂𝒏𝒅 𝒔𝒌𝒊𝒆𝒔, 𝑰 𝒅𝒊𝒅𝒏'𝒕 𝒍𝒆𝒂𝒗𝒆, 𝒍𝒐𝒗𝒆 𝒏𝒆𝒗𝒆𝒓 𝒅𝒊𝒆𝒔." 
We Belief:
We believe that the souls of our passed loved ones can manifest in different winged creatures that serve as cardinal and show up to us when we need them the most.
It is our vision to help people heal and connect with loved ones passed on from this physical plane. 
We hope that our artistic and soulful pieces and poetry will give you hope and remind you that your love never dies.
(info@apocketfuloflove.com)